What is MEC?
In a nutshell, it's a powerful and complex integration tool that allows M3 to communicate with the outside world. It can create and read XML files, and coupled with the Flat File Definition tool it can work with CSVs.
For Single-Tennant (non cloud-based) systems, MEC is pretty much the final frontier (or the first) when we're integrating with other systems but with CloudSuite, MEC has changed.
How is MEC changing?
It's now called IEC and we need to think about it differently. With CloudSuite integrations, you'll hear the word BOD a lot (Business Object Document). A BOD can be thought of as a universal way of describing something that makes sense to external systems.
For example, a purchase order might contain a number of items, in M3 items come from the "ITNO" field, but for external systems this means nothing. The BOD replaces "ITNO" with "Item ID", these are meaningful tags instead of internal database field names.
IEC can only create & read BODS.
How IEC works with BODS
IEC can only work with BODS, you can no longer directly create XML files using custom XSD schemas. It's still possible, but there are other steps involved. IEC needs to be thought of as an interim piece of software that can only work with BODS. You can make custom BODS, but your XML file always needs to reside within a BOD.
These end to end flow diagrams prove why we need to take the primary focus away from MEC and think about the bigger picture. For example, using ION tools within CloudSuite such as ION mapper.
Inbound Flow: Importing a CSV into M3 CloudSuite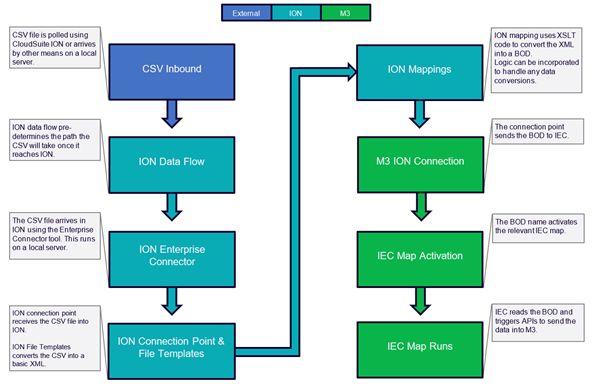 Outbound Flow: Exporting a CSV from M3 CloudSuite
If you'd like to learn more about how MEC/IEC works with M3 CloudSuite then please get in touch. Call 01260 296350 or email info@anthesis.co.uk
Author Callum Wright is an Infor Consultant at Anthesis working with major M3 customers to help them use their system effectively to achieve success.